It's hard to believe that it has been more than four months since my last posting.  During that time there was the frenzy of the holiday season, but also, I had some nagging medical problems and I had to take care of the most difficult experience of my life when my father, Neal E. Small, passed away on January 7, 2012. 
Neal E.  Small was a proud and loving father to me and my sister Lucy and, in addition to (or despite) being an attorney, he had many interests beyond the law.  Among his eclectic list of interests were: everything nautical, history, writing, politics, poetry photography, painting, tools and woodworking, science and engineering, inventions, etc.. In short, he was a Renaissance man.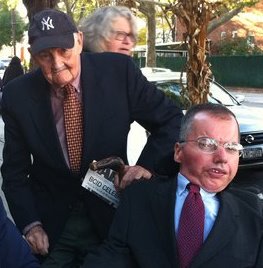 As I have explained to people recently, my father was my biggest champion, supporter and best friend.  Particularly for people with severe disabilities, the relationship between a parent and child is especially strong and it definitely was between my father and me.  Hopefully in the near future I will have time to properly describe our bond.
In the meantime, I have been gradually getting back into work and have been participating in a national systemic advocacy issue by encouraging people to "Tell the US Department of Labor to work with the Disability Community!".  This effort is part of a national campaign to submit comments to the US Department of Labor in explanation of our opposition to these regulatory changes.  For further information, take a look at the background information provided by the Center for Disability Rights. 
Back in December, the Obama administration proposed amending the US Department of Labor regulations concerning home care workers. Under the current rules, home care workers are not subject to the ordinary overtime rules. This is called the "companionship exemption" to the Fair Standards Labor Act. The regulatory change that the US Department of Labor is considering is to eliminate the companionship exemption; workers would then theoretically be entitled to be paid overtime pay for everything over 40 hours per week. 
However, basically every state and local government is on the verge of bankruptcy, so the prospect of home care workers actually getting paid overtime is a pipe dream at best.  If these regulatory changes go through, what will probably result is an unofficial cap in the hours that a worker can put in per week.  On a personal note, two of my personal care assistants will have their pay reduced.  Thank you Pres. Obama!