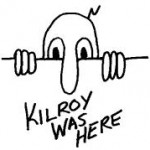 Once again, the Internets have come through big time!  For some reason, recently I was thinking about how my father would scribble his version of the "Kilroy was here" image in various places, and his explanation for the drawing.  This image and story has always struck me as funny and I had to confirm this information.  As it turns out, there is a dedicated website for everything you could possibly want to know about "Kilroy was here".  Practically everyone associated with the World War II generation is familiar with this story, and it was definitely part of my father's consciousness.  He even had a cat named "Kilroy".
Later that same afternoon, I was delivering some homemade kimchi to my friends Alejandra Ospina and Nick Dupree, who live in lower Manhattan.  Alejandra and Nick are a more than interesting couple and both are very computer savvy!  By way of explanation, Alejandra seems to be everywhere all over the Internet and is an administrator/liaison for an online community called GimpGirl; Nick is a cartoonist, writer and student, who creates his art using a trackball mouse and Photoshop software to publish his work online at superdude.org. 
This visit started me to think about how I used to draw quite often and it sparked a creative urge related to the aforementioned Kilroy.  Apart from the artistic component, I am compulsive and I wanted to see whether I could dip my toe into visually creative waters once again.  So as to not to bite off more than one can chew, all I wanted to produce with my first computer drawing effort was to change "Kilroy" to "T.K.".  In a way, I had a head start with this effort because I had already "borrowed" the "Kilroy was here" image and then converted the image to a bitmap file. From there, I inserted the graphics file into a Microsoft FrontPage document and inserted the "T.K." by figuring out how to draw lines and move them around.  Next, I took a screenshot of my progress and then opened it up in the primitive "Paint" program to save it in a JPEG format.  Finally I went back to my photo editing software to crop the image. Talk about an absolutely crazy computer work around effort…!
In the end, this whimsical project was a lot of fun.  If you are wondering, being self aggrandizing is far underrated and figuring out the different steps in this process was an interesting exercise.  Everyone should do something creative every day creative…!